Last night we
scrapbooked
at my house. Jenn normally has the crops at her house but since I have the babies and my new best friend the
Cricut
Expression, we decided to do it here. I shipped Ash off to Michelle's for some quality aunt/niece time. We only stayed up until 2 am. I think we have all realized that staying up late really sucks the next day. When Aaron is home he will take care of the babies while I sleep but I don't have that luxury now since he is gone. It's so funny when your used to going to bed at 10 or so and we try to stay up until 2 we start getting a little goofy.
Lily's eye procedure went well yesterday. They stuck this long metal thing in her tear duct and flushed it with saline solution. I had to hold her still while he was doing the procedure, that was not so fun. However there was a new corvette outside the window that I focused on. Hey a girl can dream even if it's for a moment. She did great and we have to follow up in 5 weeks. Her eye looks good though. She has some drops that we have to put in 3 times a day.
Both babies are really close to rolling from their back to their stomach. Lily can get onto her side but her arm really gets in the way of her rolling over plan.
I put Lily vertical on the play mat and she wiggled her way to the carpet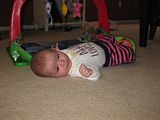 I had to get a pic of these pj's they look so cute on him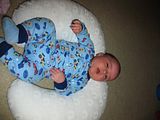 He loves sitting up and looking around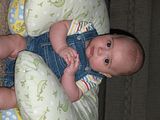 carrot face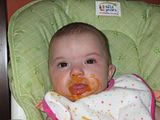 carrot face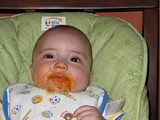 Lily's new skirt (she spit up right before the pic)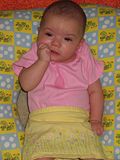 Preston's

stylin

in his new shoes and pants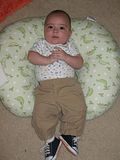 I just had to get a pic of her bow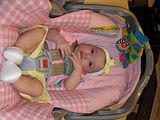 She will thank me for this one day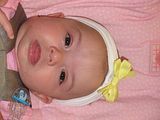 Finally Preston found his hand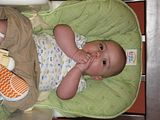 Lily found hers weeks ago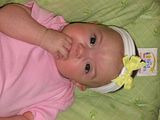 Excuse me Lily I would like to roll over now