Wow I just realized I didn't blog about day 2. We didn't go on any outdoor adventures yesterday. Instead we stayed home and
bbq
ed some ribs, chicken, sausage and corn. It was so good. When Aaron's parents would come visit Houston we would always go drink margaritas at our favorite
mexican
restaurant. In honor of their visit to Canada we kept up the tradition and drank them yesterday, Texas style! (tequila, lime, margarita mix and salt) We also went for a walk, relaxed and spent some quality time with Nana and Pop.
Today was a different story we rode the ferry to
Bell island
to tour the abandoned iron mine and lighthouse. First we went to the lighthouse,
omg
the view was amazing. You can only go past the gated area at your own risk. Of course WE did. I had to lay down because it is so far down I was getting dizzy standing up and looking down. It was a little scary because obviously you don't know how close you can go without falling. I wish I could rent a boat and go to the little beach that we saw. We left the lighthouse and went to the iron mine. The next tour was very close to leaving when we arrived so we had to hurry. Since none of us have never been to a mine we had no idea what to expect. First the lady said it was 45 degrees in the mine so we needed jackets. We put a jacket over the babies, fine. Then she asked that we all put on hard hats, fine. Then she said
ok
the babies will need to wear bike helmets, huh!?!?! I kind of looked at her wondering if this is something I should have brought? Oh no we have some. Let me tell you she handed them to me and I started laughing which started a chain reaction to Ashley and Renee. I couldn't imagine that the babies would keep these on their heads. Well here is the picture. You can see why we were cracking up. Preston didn't mind (he had
binki
) he fell asleep when we got inside the mine. Lily made the saddest face and was not happy. She kept moving and fussing. I finally took her out of the stroller thinking it would help but she was not liking the mine. I took the hard hat off and we decided to head back to the top. The tour lady said "the tours not over" I replied "for us it is" we took off so fast they probably saw smoke under our heels. The tour was not bad it was just the circumstance.
We drove around the island then headed home so Aaron could cook seafood chowder. It was very tasty.
I will leave you with some pictures of our days.
Click the pictures to make them bigger.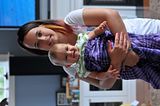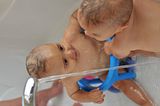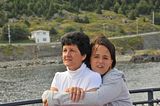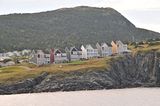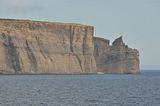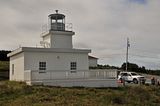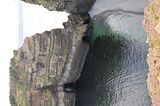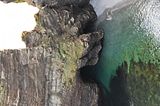 click to see the saddest face.